Camp Fire was founded on the principle that facing challenges outdoors helps build caring, confident youth. We believe that outdoor experiences provide insight into who we are as people. We stress facilitation rather than teaching, and convey concepts through experiential activities connected to powerful debriefing sessions that translate the activities to our personal and professional lives.
Our Challenge Course offers participants an opportunity to experience safe physical challenges that help us examine our interactions with our teammates and ourselves. How you react to the challenge of being 30 feet up in the air can give you insight to how you might react to difficulties on the ground!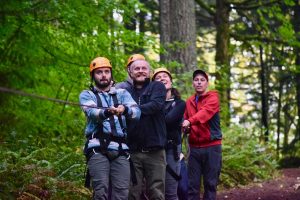 Corporate and Non-Profit Team Building
Developing a good team in the workplace takes work. Sharing experiences together can open up new lines of communication, forge new connections between co-workers, and change the way a team functions- for the better.
A day on the Namanu Challenge Course can help develop a positive group dynamic in a way few shared experiences can. Whether your group would like to focus on getting to know each other better, enhancing communication, building trust or just needs to be reenergized, we have the program for you. Each session can be tailored to your group's particular needs to assure the creation of a strong, healthy and productive team.
Contact our Rental Manager to arrange your day on the course!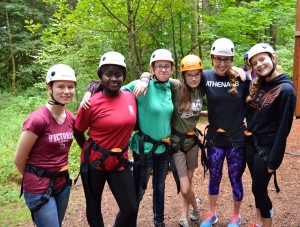 Youth Groups and Athletic Teams
A day on the Challenge Course is a great way for youth groups to develop cohesion and trust. Whether your group has been together for seasons, or is just forming, a chance to share the challenges at Namanu will bring them together in a way few other experiences can.
Our activities challenge individual and group expectations and boundaries, while setting the stage to explore the issues surrounding them. As youth scramble up ropes, scale trees, and repel down walls surprising things happen. Their own "walls" fall away as participants learn to trust themselves and one another.
Contact our Rental Manager to arrange your day on the course!
Your Experience
Activities on the challenge course are planned for INTENTIONAL FUN. Each experience is designed to spark group discussions around:
Teamwork
Problem Solving
Communication
Trust
Goal Setting
Confidence
Encouragement
Leadership Development
Group Bonding
And more…
Your experience may include games, initiatives, low elements that focus on group trust and teamwork, or high elements designed to challenge individuals and groups within a controlled risk environment. Participants on the high elements are required to wear harnesses and helmets and are connected to a belay system. All challenge course activities are designed and presented with a great consideration for your psychological, emotional and physical safety.
Partnering with You
Our challenge course is an excellent teaching tool for many groups. We customize your program to fit the specific goals and needs of your group, enabling you to get the most out of your experience.
Your Choice
Namanu works under a "Challenge by Choice" philosophy.
In all of our activities:
You may choose your level of involvement and commitment.
You are encouraged to accept challenges beyond your normal comfort zone.
You are not coerced or forced to participate at a level beyond your choosing.
You will experience a setting of care and respect for each individual and his or her choices.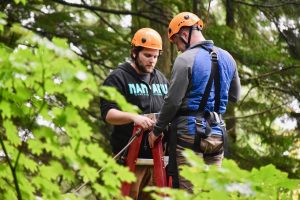 Our Facilitators
Each facilitator is carefully trained for leadership and safety on the challenge course to provide your group the highest quality experiential adventure program. All facilitators hold a current certification recognized by the Association for Challenge Course Technology.
Camp Namanu staff have experience working with diverse groups and will help to ensure your group is safe and challenged.
Groups who benefit from our Challenge Course:
Management Teams
School & College Groups
Church Adult & Youth Groups
Athletic Teams
Counseling Groups
Teachers and Administrators
Staff Development Teams
Small Business Teams