Volunteer with Camp Fire Columbia and Ignite Positive Change
Are you passionate about making a lasting impact on the lives of youth and your community? Join Camp Fire Columbia's volunteer team and be the spark that brings positive change to young individuals' lives. As a volunteer, you have the opportunity to express care, challenge growth, provide essential support, share power, and expand possibilities in meaningful and impactful ways.
Call for Volunteers
We are looking for volunteers to help support all of our programs and events. If you are interested, click HERE.  Thank you to our volunteers!  Your commitment inspires our efforts and makes our biggest dreams possible.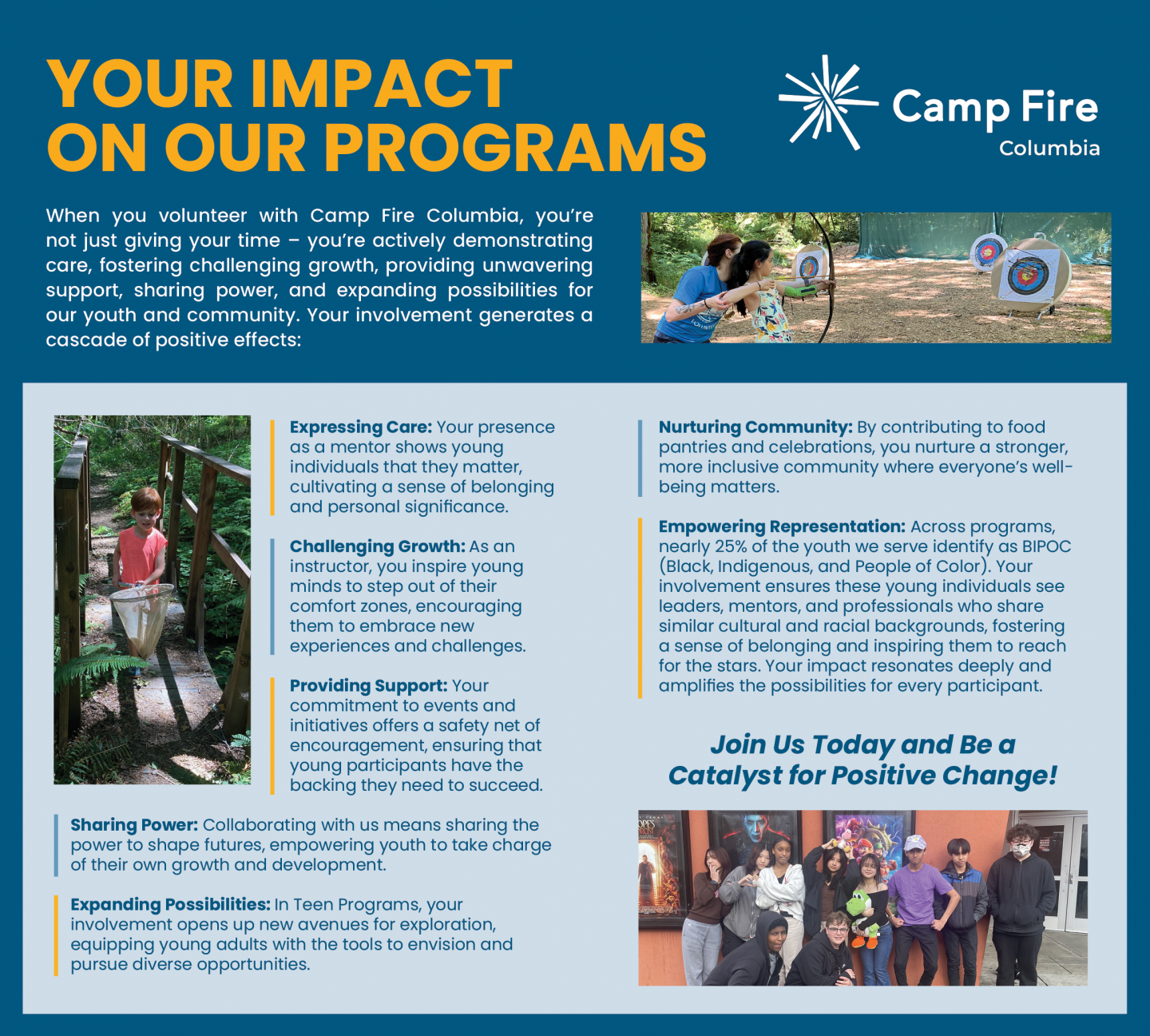 Your Impact on Our Programs
When you volunteer with Camp Fire Columbia, you're not just giving your time – you're actively demonstrating care, fostering challenging growth, providing unwavering support, sharing power, and expanding possibilities for our youth and community. Your involvement generates a cascade of positive effects:
Expressing Care: Your presence as a mentor shows young individuals that they matter, cultivating a sense of belonging and personal significance.
Challenging Growth: As an instructor, you inspire young minds to step out of their comfort zones, encouraging them to embrace new experiences and challenges.
Providing Support: Your commitment to events and initiatives offers a safety net of encouragement, ensuring that young participants have the backing they need to succeed.
Sharing Power: Collaborating with us means sharing the power to shape futures, empowering youth to take charge of their own growth and development.
Expanding Possibilities: In Teen Programs, your involvement opens up new avenues for exploration, equipping young adults with the tools to envision and pursue diverse opportunities.
Nurturing Community: By contributing to food pantries and celebrations, you nurture a stronger, more inclusive community where everyone's well-being matters.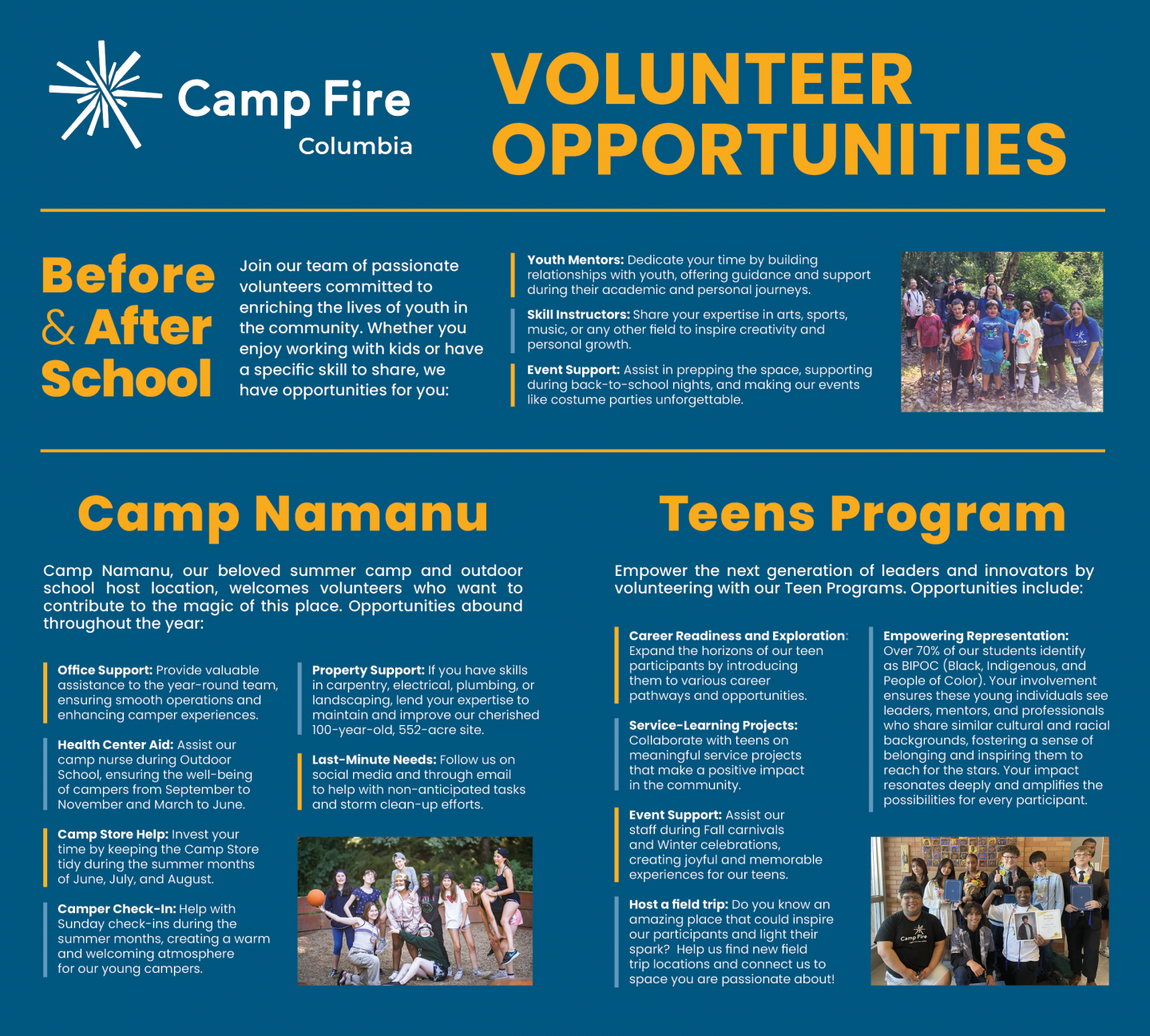 There's a Role for Everyone
Before & After School: Enriching Young Lives
Our Before & After School program seeks dedicated volunteers who can offer their time to be with youth, provide mentorship, and teach valuable skills. Volunteer opportunities include helping prepare the space, supporting during back-to-school nights, and making special events like costume parties unforgettable. Your involvement makes a difference in creating a nurturing environment where children thrive.
Camp Namanu: Preserving the Legacy
Volunteering with Camp Namanu means contributing to the magic of this cherished summer camp, established since 1924. Whether you can assist at the office, lend a hand during work weekends, support the health center, tidy the Camp Store, aid in camper check-ins, or bring your skills to property support, your involvement helps preserve tradition and make lasting memories.
Teen Programs: Fostering Representation and Belonging
Our Teen Programs hold a special significance, with over 70% of our students identifying as BIPOC (Black, Indigenous, and People of Color). Your involvement here is more than just support – it's about empowering through representation. By volunteering, you ensure these young individuals see leaders, mentors, and professionals who share similar cultural and racial backgrounds. This fosters a sense of belonging, inspires aspirations, and paves the way for a brighter future.
Committees: Share Your Expertise 
Share your expertise with us! Our current Camp Fire Committees are: Brand, Finance & Fundraising, and Property. This is a great opportunity for community members, parents/guardians, staff, and our Board of Directors to come together to build a stronger more successful Camp Fire. Knowledge and experience in the related fields are preferred. 
Corporate Days of Service: Make a Collective Impact
We offer opportunities to get involved beyond direct program support. Bring your colleagues together for a corporate day of service to make a collective impact. Let us create a unique opportunity that is tailored to your preferred outcomes. 
Get Involved Today
Ready to light the fire of positive change? Reach out to us at [email protected] and discover how you can become a valued member of our volunteer team. Join us in expressing care, challenging growth, providing support, sharing power, and expanding possibilities for the youth and community we serve.
Together, let's create a brighter future for all.
Consider Giving
Donations to Camp Fire Columbia allow us to unlock potential, manage our resources with agility, and continue to provide a valuable and timely  resource to our community. Join us on this journey by making a gift.
Ignite your spark, today.