Maker's Market & Camp Store Pop-Up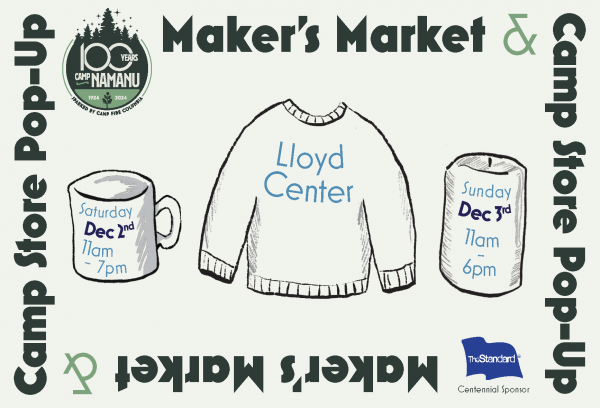 Discover the magic of the winter season at our enchanting in-person event – the Maker's Market & Camp Store Pop-Up. Join us at Lloyd Center on Saturday, December 2nd from 11am-7pm and Sunday, December 3rd from 11am-6pm! 
Your Favorite Camp Store Items & More:
Explore a world of comfort and coziness with our beloved Camp Store items: snuggle up with fuzzy blankets, bask in the warm glow of scented candles, sip your favorite brew from our charming coffee mugs, and bundle up in our cozy sweatshirts. Plus, we've sprinkled in a dash of holiday magic with some special seasonal items! There's something for everyone to adore. 
Every Purchase Matters:
This is your exclusive once-a-year opportunity to support our cherished organization while indulging in the delights of our Camp Store and the skills of our community. We're thrilled to showcase the talents of our local artisans, makers, and craftspeople. Each vendor brings a unique touch to the fair, offering handcrafted wonders that radiate with passion and skill.
Mark your calendar, shop with purpose, and make lasting memories at the Maker's Market & Camp Store Pop-Up. See you there!
Calling All Vendors:
If you're an artisan, maker, or crafts enthusiast, we invite you to join our pop-up market! Secure your spot now, apply here.
There's a $25 application fee to be a vendor for one day, or a $50 application fee if you'd like to be a vendor for both days. Fees go toward covering the cost of the event and any additional revenue will be reinvested into funding our three vital programs. Vendors are welcome to contribute more to support our organization. Applications will close on November 24th.  
We will provide tables and chairs, making your setup a breeze. For those tabling both days, we'll be on-site on Friday, December 1st from 1-7pm to assist you in creating an eye-catching display for your goods.
This event is a unique opportunity to showcase your craft, elevate your brand, and connect with a wider audience. Share your creativity and celebrate the season with us. Together, let's make the first weekend in December one to remember!
Centennial Sponsor