Camp Namanu's Centennial Kickoff Celebration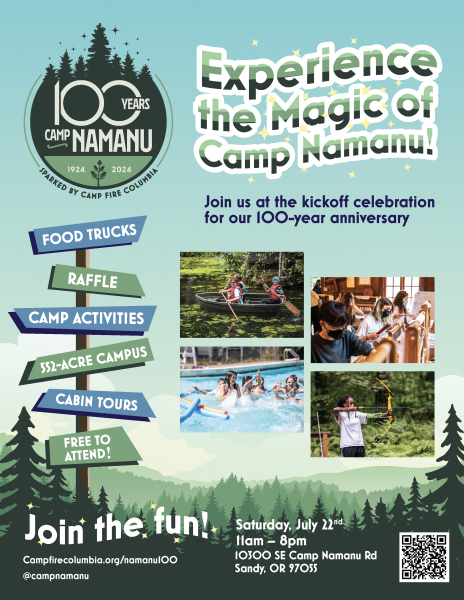 Step into a century of cherished memories as we embark on a momentous journey celebrating the 100-year anniversary of Camp Namanu! The Centennial Kickoff will honor the camp's rich history and set the stage for the next 100-years. Best of all, this extraordinary celebration is absolutely free to attend and welcomes all ages. Register HERE.
The Kickoff Celebration will feature an array of thrilling camp activities and captivating demonstrations that showcase the essence of Camp Namanu. From live entertainment to exciting raffles with enticing prizes, this event promises non-stop excitement and joy. Treat your taste buds to a yummy selection of delightful bites offered by local food trucks and vendors. But that's not all! Brace yourself for even more surprises and delights that await you at every turn.
We encourage carpooling to Camp Namanu, allowing you to connect with fellow camp enthusiasts on the journey, making this event even more special. Coordinate your travel arrangements conveniently through Get There. For further details, please click HERE.
Mark your calendars, gather your loved ones, and prepare for an extraordinary centennial celebration. See you there!