Autumn Fest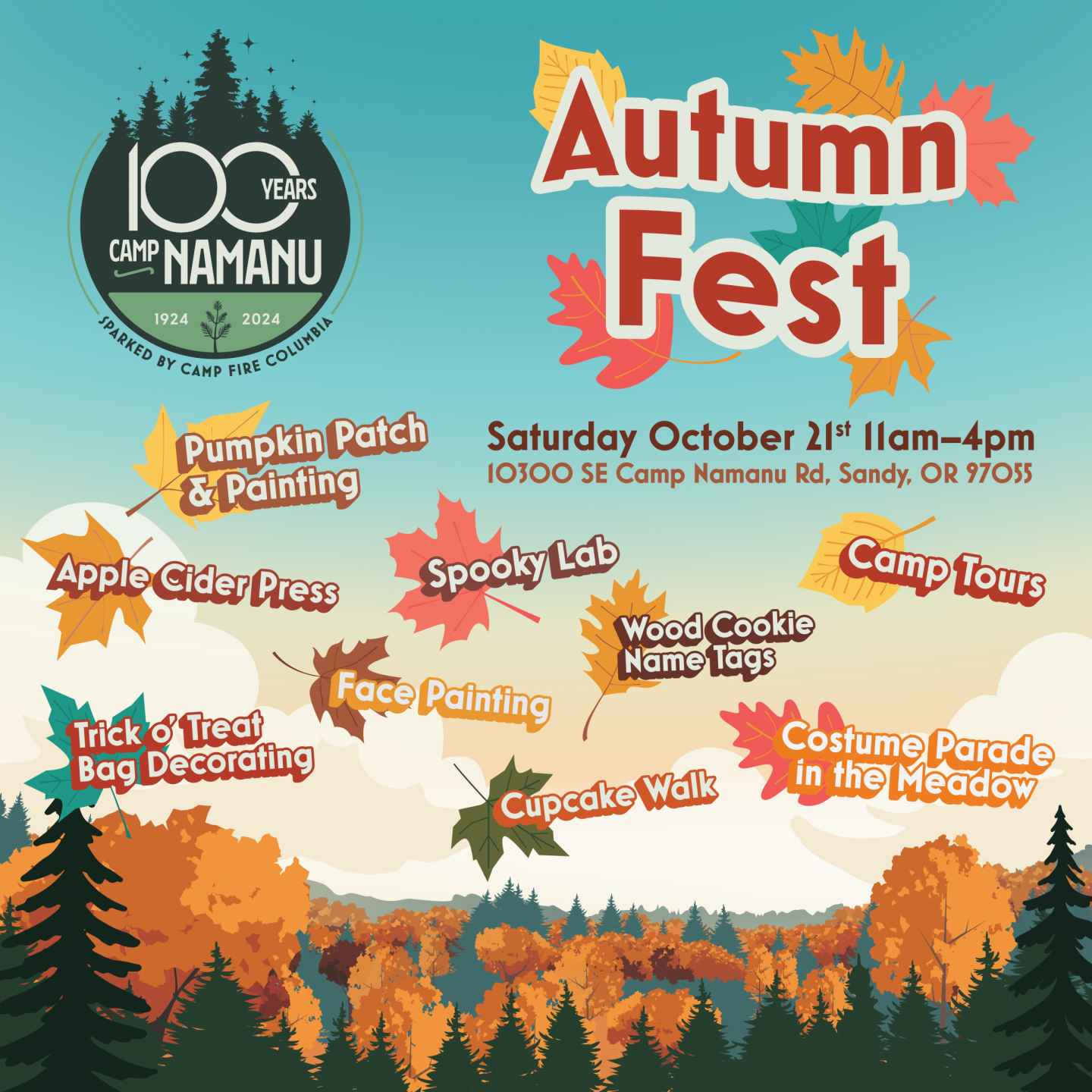 Join us for a splendid day of festivities and fun at Camp Namanu's Annual Autumn Fest! 
We are thrilled to invite families from all three of our exceptional programs and everyone in our community to come together at our much-anticipated Autumn Fest! Whether the sun is shining bright, or the raindrops are gently falling, Autumn Fest promises a day of fun and laughter for all ages, set against the breathtaking backdrop of Camp Namanu's scenic beauty. Let's gather together in appreciation of the changing seasons and the joy of community.
Registration: 
A registration fee of $10 is required to secure your spot at Autumn Fest. This fee covers your delicious lunch and access to all the incredible activities the event has to offer. Pumpkins, hot cocoa, and camp merchandise will be available for an additional small fee. Bonus: If you purchase a mug from the camp store, you'll receive a piping hot cocoa on the house! Register HERE
We believe in ensuring that everyone can partake in the festivities, so if the registration fee poses a barrier to your participation, please don't hesitate to reach out to us at [email protected].
Activities Galore: Engage in an array of exciting activities that capture the essence of the season.
Pumpkin Patch & Painting:

Choose your canvas from the pumpkin patch and bring your creative visions to life with small pumpkins for just $3 or go big with large pumpkins for $5.

 
Apple Cider Press:

Savor the taste of freshly pressed apple cider as you watch the magic of the cider press in action.

 

Trick o' Treat Bag Decorating:

Design your own treat bag, ensuring a stylish and spooky container for your Halloween haul.

 

Cupcake Walk:

Test your luck and snag a delicious cupcake while playing this classic carnival game.

 

Face Painting:

Transform into your favorite Fall-inspired character or creature with our talented face painters.

 

Spooky Lab:

Explore a world of fun in our interactive spooky lab. Reach in and touch what feels like brains and eyeballs. 

 

Wood Cookie Name Tags:

Get crafty and design your very own wooden name tag, a cherished keepsake and camp tradition.

 

Camp Tours:

Take a guided tour of Camp Namanu and discover the hidden gems that make our camp a truly special place.

 

Costume Parade:

Embrace your creativity and join our Costume Parade around the Meadow. Please ensure that your costume is respectful and does not appropriate cultures that do not belong to you.




 
Mark Your Calendars:  
Don't miss out on this opportunity to celebrate the season's splendor with your Camp Fire Columbia community. We can't wait to welcome you to our beloved camp for a day filled with joy and connection. See you there! 🍁🌽
Centennial Sponsor